Summer is approaching and it's never been a better time to relocate to one of the jaw-droppingly gorgeous penthouses here in Dallas.
Whether you're just curious about how glam living at the top of the world in Dallas can get or seriously shopping around, we've compiled a tour of some of the most fabulous penthouse spots in Dallas, Texas.
First, a quick definition.
What is a Penthouse?
A penthouse is a luxury unit that is usually the top floor of a luxury apartment building. They'll give you the best views, the most space, and usually include higher-end features. The key difference in a penthouses compared to other units in a luxury building is that penthouses is where you'll find the high-end touches that command higher price tags. Think higher ceilings, balconies, and larger, more open floor plans.
It's the lavish life that only high-rise apartment living can provide. So without delay, let's dive into some of the most beautiful penthouse options Dallas has to offer. These ten are the crème de la crème of Dallas penthouse living.
1. Luxury at Your Fingertips at The National Residences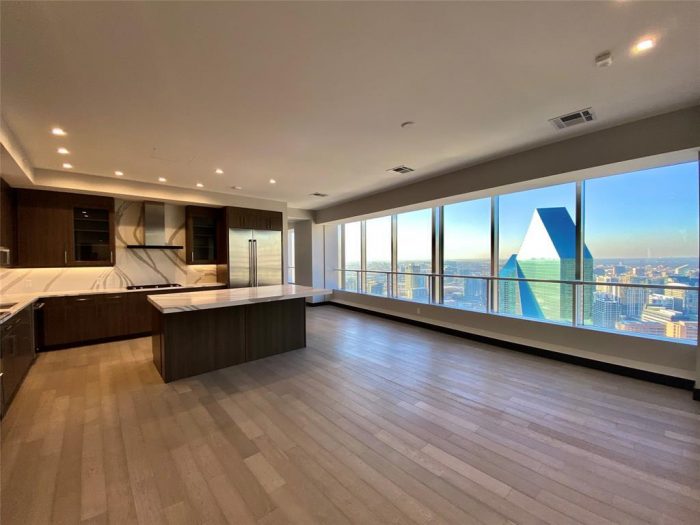 The National Residences, Dallas, Texas
There's no need for a vacation when you're living in a resort-like atmosphere. Glam it up in the gorgeous poolside cabanas or take in the views with 51 jaw-dropping floors of modern elegance. Are you ready to carve out your own piece of paradise in the heart of downtown Dallas? The National Residences penthouses feature floor-to-ceiling windows, hardwood flooring throughout common areas, spacious walk-in closets, and modern gourmet kitchens. Oh and did we mention the stylishly appointed common areas that feature a show-stopping lobby, mid-century modern seating areas, and rooftop green spaces? Shared amenities include but are not limited to the following:
In-home catering by Executive Chef Jeramie Robison
Maid services and Dry cleaning
Resort-Style Pool Access
Pet Concierge
Full-service Spa and Fitness Center that includes a yoga lawn, infrared sauna, and plunge pools
Are you ready to live the high life? Before making your decision, take a look at these other fabulous residences.
2. Flawless Fine Living at The Victor
The Victor, Dallas, Texas
Another charming piece of Victory Park Dallas living is The Victor. Enjoy views of Downtown Dallas peering through floor-to-ceiling windows 10-feet high. Indulge in the essence of extravagance with quartz countertops, stainless steel appliances, and Italian-made custom cabinetry throughout.
Amenities include:
gaming lounge
resort-inspired pool
club-level gym
yoga space
private garages
personal concierge services
a pet parlor with a grooming station
3. Art at Your Doorstep at Amli Fountain Place
Amli Fountain Place, Dallas, Texas
You don't have to be an art lover to want to be nestled in the artsy community of Dallas' Art District. This neighborhood is famous for its cultural attractions, such as the Meyerson Symphony Center, the Winspear Opera House, and the Dallas Museum of Art. Amli Fountain Place features a penthouse that provides an astounding view of the area. Bask in luxury amenities which include:
open-air yoga deck
a resident lounge and bar
a heated pool
The "Sky Lounge", the one and only exclusively for residents to enjoy. It is described as stunning and is part of the AMLI Fountain Place, a Downtown Dallas apartment complex. The emphasis on this luxurious amenity highlights its appeal to potential residents. The "Sky Lounge" is also notable for being completely free for apartment residents, further emphasizing its value. This suggests that the "Sky Lounge" offers a unique and desirable space within the complex, likely providing stunning views of the surrounding cityscape. Overall, the mention of the "Sky Lounge" indicates its importance as a standout feature of the AMLI Fountain Place apartments, providing residents with a high-end, complimentary space to relax and enjoy breathtaking views.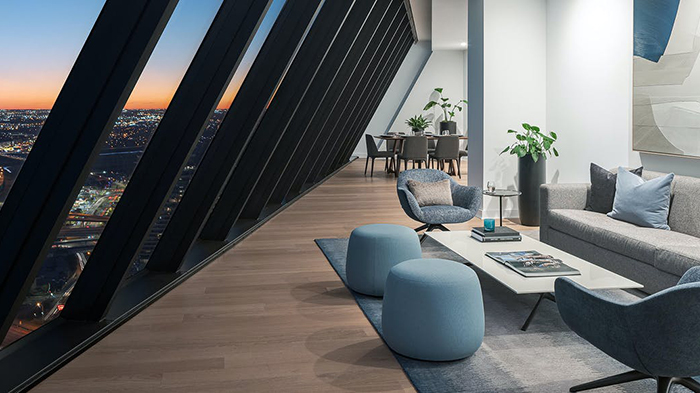 You are probably bursting with anticipation, ready to buy one of these Dallas penthouses.
However, there are several more that you might love.
4. M-Line Tower – A Penthouse That Leaves You Breathless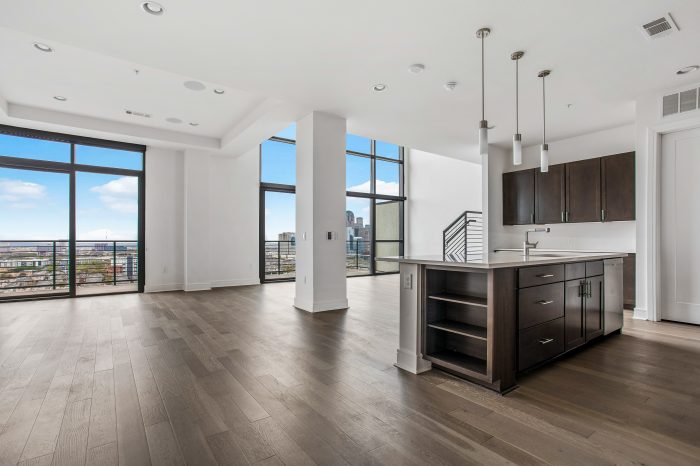 M-Line Tower, Dallas, Texas
Just when you thought that penthouse living couldn't get any more rewarding, M-Line takes it to another level. Enjoy priceless views of the picturesque Dallas skyline from your penthouse balcony. Wake up every day to 2256 square feet of space, including lavish apartment amenities such as quartz countertops, custom wood cabinetry, and porcelain bathroom tiles. Community amenities include:
panoramic views of uptown, downtown, and Turtle Creek
poolside entertainment lounge
grilling stations
fitness center
5. World-Class Living on Top of the World at Christopher at the Union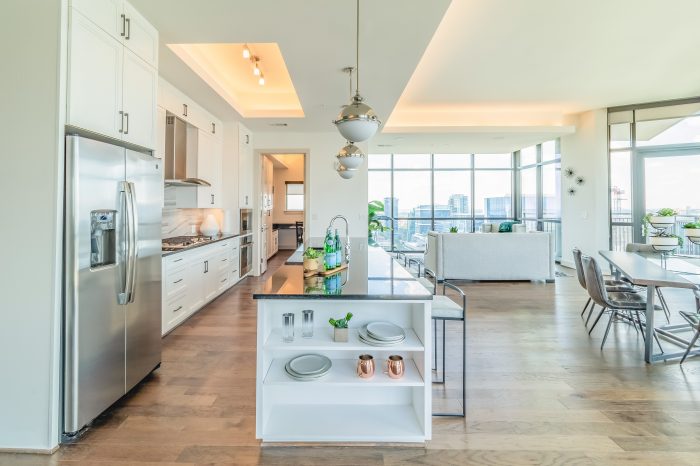 Christopher at the Union, Dallas, Texas
Penthouse living almost doesn't get any better than Christopher at the Union. Located right in the pulse of the city, you can go from the top of the world right into the heart of the hustle and bustle of urban life every day. Enjoy top-notch entertainment, dining and shopping experiences right outside your door. Your suite will be decked out with granite and quartz countertops, gourmet islands, customizable shelving, and more.
The community features include:
a resort-style pool with Cabanas
private bars
concierge
fitness center
6. Sky Life Is The Right Life at Residences at Park District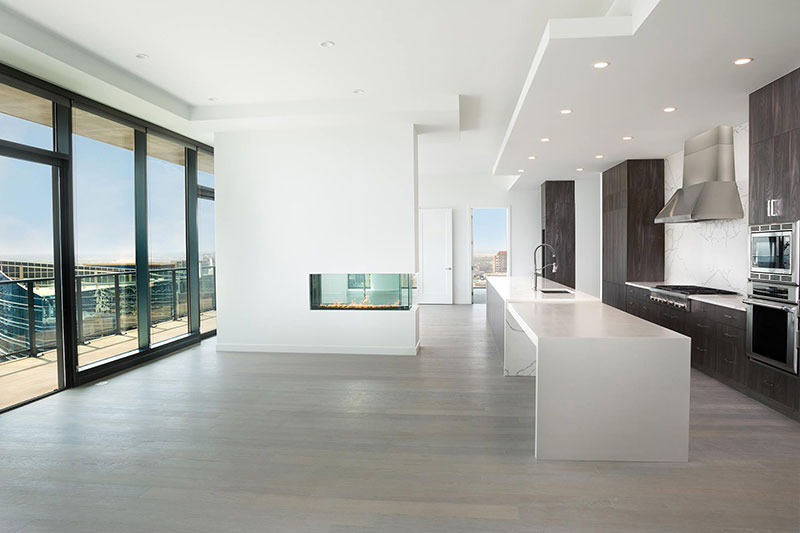 Residences at Park District, Dallas, Texas
Enjoy breathtaking Downtown Dallas views in your own personal heaven at the Residences at Park District. You will find urban green spaces and fine dining nearby this chic penthouse. Penthouse features include private balconies, quartz countertops, Italian kitchen cabinetry, and hardwood flooring. Amenities include:
an infinity-edge pool
private cabanas
grilling stations
social lounge areas
7. Carlisle & Vine – Luxury That's Out of this World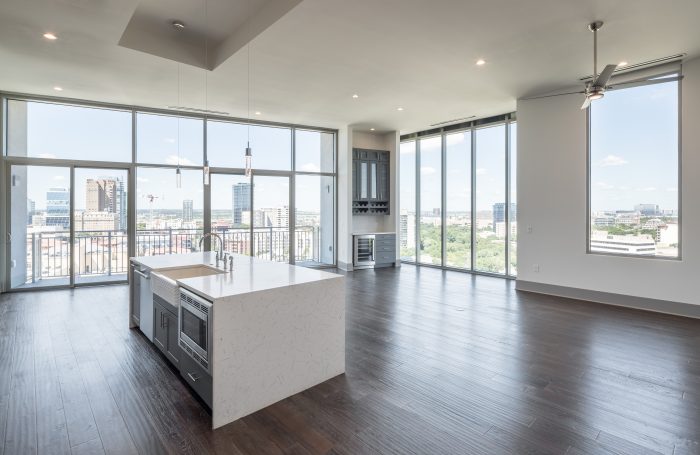 Carlisle & Vine, Dallas, Texas
The previous penthouses may have blown your mind, but Carlisle and Vine will skyrocket you to the moon. This elegant high-rise in uptown Dallas has breath-taking views both inside and outside. You will find quartz and granite countertops, stainless steel appliances, keyless entry, and ten-foot ceilings on the inside of the penthouse. With so many great options for your next penthouse, you may be asking yourself questions like "how important is an in-home chef? Or, "how high do I want my ceilings to be? " In the meantime, check out a few more options.
Outside the penthouse, you can view stunning sunsets or enjoy community amenities such as:
fitness center
personalized concierge service
integrated wet deck complete with a resort-style pool
8. Unprecedented Pampering at The Katy Victory Park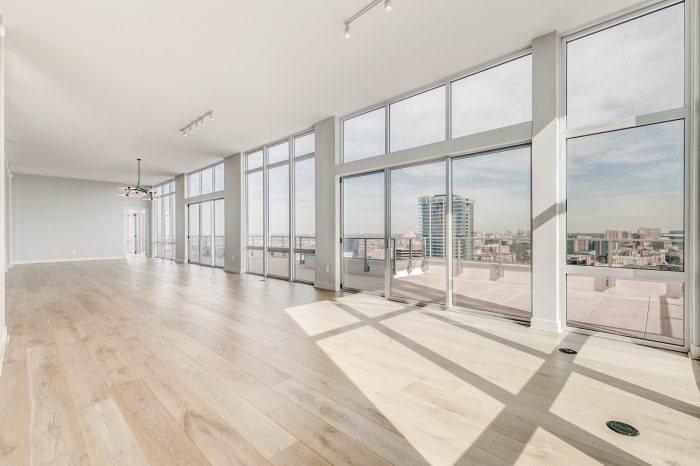 The Katy Victory Park, Dallas, Texas
If you are seeking a hotel-like apartment experience, The Katy Victory Park touts itself as such. This penthouse has quartz waterfall countertops, deep soaking tubs, keyless entry, and much more. Standard amenities include a 24/7 concierge, an auto care center, an infinity-edge pool, two large hot tubs, a fitness center, and a dog park, to name a few.
There are plenty of shared amenities, including:
rooftop dog park
gym with skyline views
lounge with outdoor grills and fire pits
individual resident meeting rooms
There are two more to also consider as your next luxury Dallas penthouse.
9. Victorious Living at Ascent Victory Park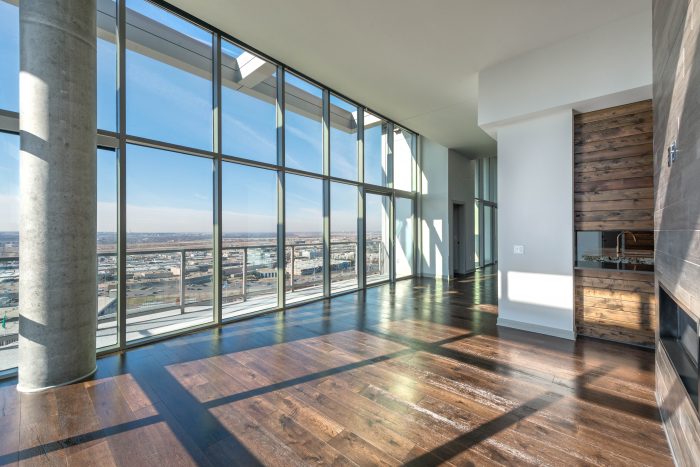 Ascent Victory Park, Dallas, Texas
You will experience a great victory by living in a penthouse at Ascent Victory Park. Ranging from the low six thousands to the upper twelve thousands, the penthouse features floor-to-ceiling windows, private balconies, granite island countertops with a leather finish, and hardwood floors.
There are plenty of shared amenities, including:
a clubhouse
infinity swimming pool
yoga studio
sauna
The tour of some of the best Dallas penthouses is just about over. However, there is just one more that you must need to know about.
10. Emerge Triumphant at Atelier Apartments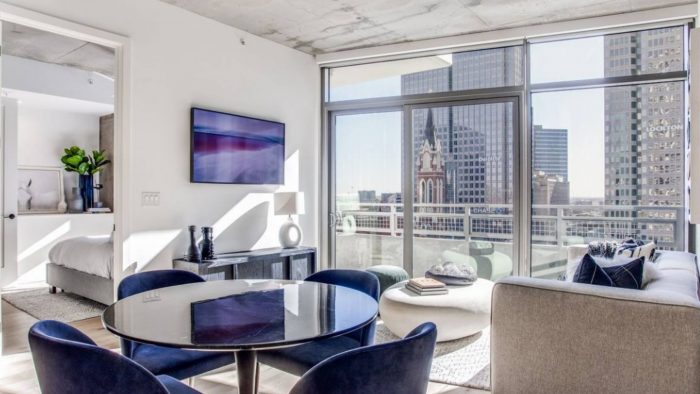 Atelier Apartments, Dallas, Texas
This penthouse is the last one on the list, but being last doesn't diminish its fabulousness. Atelier Apartments' finely crafted luxury residences includes a penthouse that dreams are made of. For instance, you will be surrounded by top-notch dining, a tantalizing shopping district, and a lively art district. This pet-friendly penthouse has quartz countertops, wood flooring throughout, Italian cabinetry, and floor-to-ceiling windows.
Atelier, the newest high-rise with high-style in Dallas' Art District has stunning penthouses to prelease now and will be move in ready by end of summer 2021.
The community amenities include:
24-hour concierge
resort-style infinity-edge pool
a catering kitchen
grab-n-go resident market
That's it! You've made it to the end of this list of star-studded Dallas penthouses. With so many fantastic options to choose from, it's not surprising that it will be hard to make up your mind.
LIVE DALLAS REALTY is always here to help you with tours, guidance, and suggestions for finding that perfect place for you to call home.
Follow the best luxury Dallas Apartment Locators @livedallasrealty for all the latest high-rises to see and be seen!
Relocating to Dallas and looking for the perfect new luxury apartment? Let's connect, click here for additional details, we're here to make your move a smooth process every step of the way.