When it comes to helping you find your dream luxury apartment in Dallas, we know
windows are key. Natural sunlight, breathtaking views, and an inspiring start and finish to each day are some of the gifts within your apartment's windows to the world.
That being said, if you truly want to go all out, take it up a notch by securing the ultimate treat of your very own corner unit.
We've gathered the absolute best Dallas high-rise corner units in all of the top neighborhoods on trend just for you. Be careful though, because by the end of this list, you may find yourself starting to pack your bags!
1.AMLI Design District
First up, the AMLI Design District, has a gorgeous 2 bed, 2 bath corner unit available
starting at $3,158. Coming in at 1,563 sqft, both bedrooms have an attached bathroom and walk-in closet, while the master bedroom features massive unique wrap around windows! Not only does Amli Design District offer downtown Dallas city views, add in the incredible amenities, gym, and skyline lounge and it's truly living the high-life. Enjoy one month free rent by contacting us today!
2.Cirque
Moving over to Victory Park where Cirque offers luxury modern living with panoramic views of Downtown in their B1 floor plan. The master bed has huge windows that will be perfect to wake up with or watch the sunset. This unit has over 1370 sqft starting at $4020, plus we can hook you up on specials with up to 8 weeks free!
3.M-Line Tower
Uptown, Uptown! Looking for location, views, and a spacious two-bedroom ? Then the TB7 floor plan at M-Line Tower is made just for you! With over 1,629 sqft plus the perfect wrap around balcony, you can sit back and enjoy the views any time of the day. Starting at $3725, let's connect on more details with receiving 4 weeks free on this featured floor plan at M-Line Tower!
4.One Uptown
When it comes to luxury living in Uptown, there's only one – only One Uptown, that is! The Tower 9 floor plan, offering 1,318 sqft of living space is not to be missed with the building's modern inspired architecture, known for it's curved facade. Home of Dallas' highest private rooftop infinity pool, One Uptown is 20 stories of pure luxury. You can enjoy this floor plan starting at $4475 plus up to six weeks of free rent!
5.The Christopher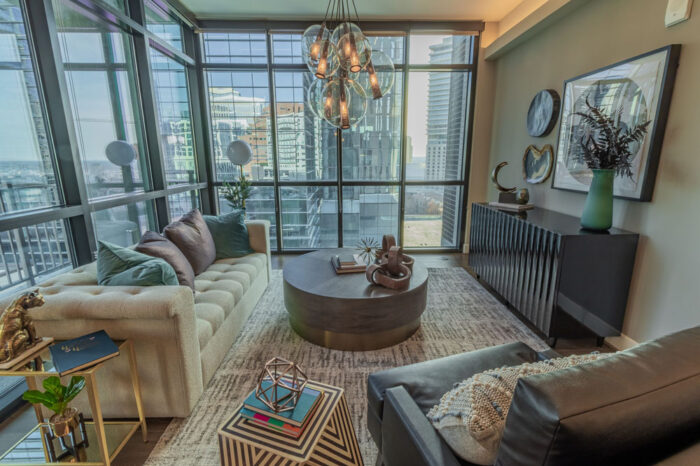 Next on our list is The Christopher. Right at the intersection of Downtown, Uptown, and Victory Park neighborhoods, The Union is a new part of Dallas you have to see to believe. Floor plan B5 is 1,495 sqft, coming in at $4,099 per month, and filled with community amenities like a resort style pool, oversized fitness center, and even a private bar just for residents, a corner unit at The Christopher is the place to be.
6.Residences at Park District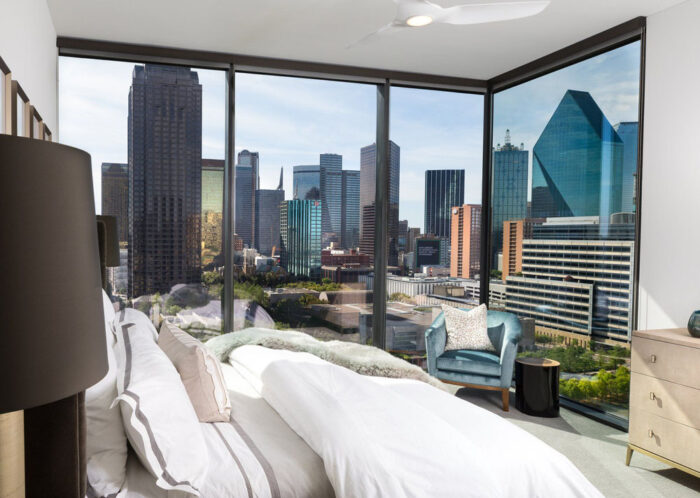 Nestled right between Downtown Dallas and Uptown, Residences at Park District will have you redefining what luxury means. We've selected floor plan B4 as the perfect corner unit for your new home. Enjoy 1,575 sqft of living space including two bedrooms, two bathrooms, walk-in closets, high end finishes, and breathtaking views. These floor-to-ceiling windows let you take in views of Dallas from every angle, there's no bad views in this iconic building! Priced at $6,300 per month, our team at Live Dallas Realty is ready to help you set up a showing today.
7.The Jordan Uptown

Moving on to The Jordan by Windsor, another excellent option for apartment living in Dallas, where the B5 floor plan is sure to make your jaw drop. Enjoy your outdoor space every morning with a fresh cup of coffee and views of Uptown – what could be better? The views don't end there, however, as windows make up nearly the entire other side of the apartment, letting plenty of sunshine into your living room and kitchen. Every nook of the 1,443 sqft has been carefully designed to support your best life. Rent starts at $4,535, but make sure to give us a call first so we can hook you up with one free month.
8.Ardan West Village
Let's stroll over to West Village where 21 floors of luxury living at the Ardan West Village waits just for you. Their B4 1,297 sqft is starting at $3,749, spacious and gives a nice abundance of natural lighting. You'll also enjoy luxury resident amenities such as a topnotch fitness center (hello, Peloton bikes!) and an exclusive resident wellness spa, among many other features. We can't wait to set you up with 4-8 weeks of free rent!
9.3700M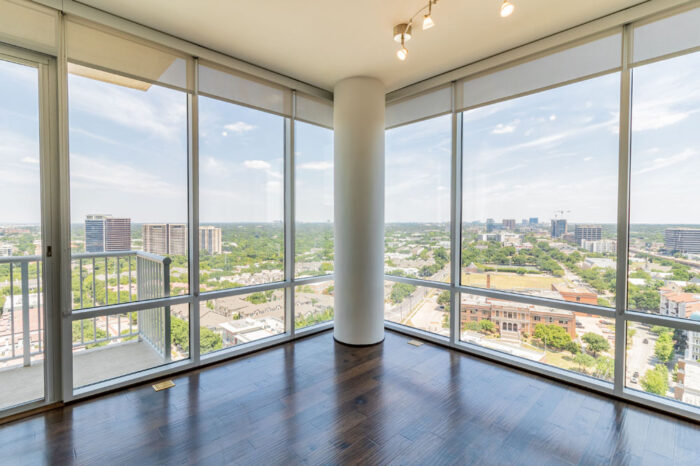 Perfectly placed in Uptown Dallas' West Village area, 3700M is another great option to call home. Your new corner unit, floor plan 2TC, comes with floor to ceiling windows, keyless entry, and a private outdoor space, among other perks. You'll enjoy 1,475 sqft of your own, while sharing a fireside lounge, fitness center, event space, and a breathtaking 7th floor infinity pool, plus more, with your fellow residents. We can't wait to connect you with up to four free weeks of living at 3700M.
10.The Hamilton & The Case Building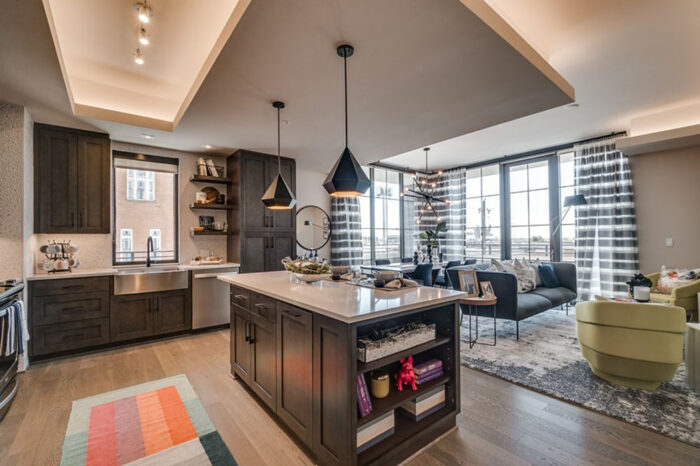 The Hamilton at the Epic, and The Case Building, both offer such amazing corner unit options for Fall 2020 that we simply couldn't choose between these sister properties. The good news for you is that they're down the street from each other, which makes for fast and easy showings. First, at The Hamilton, the spectacular corner unit floor plan B5 has 1,390 sqft, windows galore, and a patio for all your sunlight needs. Offered at$3,650, we're excited to help land you 6-8 weeks free. If we cruise down the street to The Case, an incredibly rare One-Bedroom corner unit is ready to be rented at $2,212. This floor plan, listed as A9, is perfect for an individual or couple. Enjoy Energy Star high-efficiency appliances, a full sized washer and dryer, and your own private patio, among other perks. Regardless of which building and which unit you select, your life is about to get truly sensational in your new home.
New Deep Ellum Dallas Apartments

Looking for a luxury mid-rise option in Deep Ellum? We've got you covered at the Novel Deep Ellum! Enjoy your new 2-bed, 2-bath corner unit featuring 1,147 sqft of total bliss. Available for $2,910, this industrial style building is full of amenities such as the sky terrace with impeccable views of downtown, a garden courtyard, custom pool, and a 24-hour fitness center. Inside your unit, you'll have stainless steel or trendy matte black appliances, granite countertops, walk-in closets, washer/dryer, and more. With only one unit available, don't hesitate in calling us today! We can't wait to connect you with the wonderful leasing team at the Novel and get you on your way to your new luxury lifestyle.
Finding the best available corner units in Dallas high-rise apartments for you is one of the many extras we love to offer our clients. While all of the units are currently available at time of posting this blog, we can't guarantee they'll be here for long!
Availability, pricing, and special offers, such as free rent, are subject to change at any time.
Don't forget, though our team here at Live Dallas Realty will always know the top spots, best deals, and up-to-date info for luxury apartments in Dallas, let's stay connected within 60 days of your upcoming search…we're here to help!
Contact Janna and Lindsay at www.livedallas.com, We can't wait to help you find your new luxury pad…Live Dallas with us!