Dallas dwellers know that the hottest days of summer are just an opportunity to spend more time by the pool. With so many new Dallas apartments to choose from, having the perfect pool with a view can truly be the amenity that makes the decision in finding your new home. Don't worry, your favorite luxury Dallas Apartment Locators here at Live Dallas, we have it all covered for you, check it out!
Get in the scene with our Summer 2021 Top New Dallas Apartment Pools.
Our list will have you living the sweet life, but do keep in mind it's in no particular order, so whichever spot you pick is bound to be the best.
The National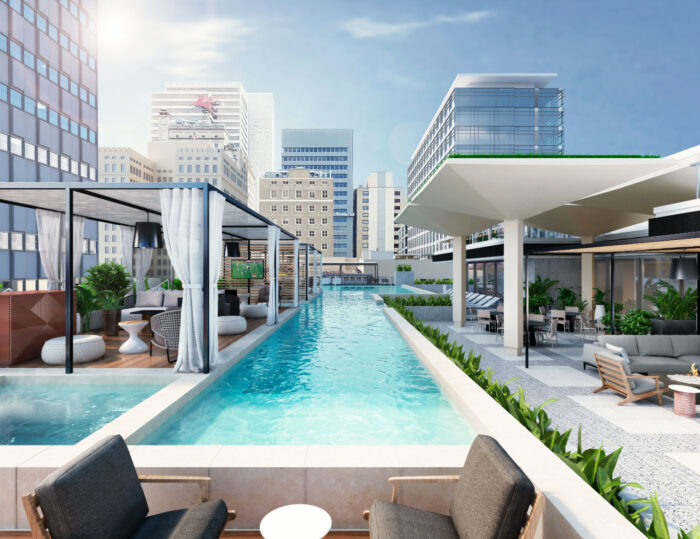 The National Residences, Dallas, Texas
Looking for high-rise luxury living in Downtown Dallas? The National Residences has it all: These Dallas high-rise apartments have views at their absolute best, restaurants located onsite by some of the most renowned chefs in the country, stunning wall art, and of course just where you want to be, poolside with a cocktail! In addition to the pool itself, the wide deck includes several cabanas equipped with lounge seating so you can relax both in and out of the water. We can't forget to mention about the cabana bar, it's waiting just for you! With this pool, you can take a vacation at home and feel like you're truly at a resort.
The Victor
The Victor, Dallas, Texas
Say hello to the newest high-rise addition to Victory Park, The Victor! Stunning 39-stories and a total of 344 residences, including six different penthouses with floor-to-ceiling windows showing off city views! The amenities stand out with these new Victory Park apartments, it's a must see. They include nothing less than a state-of-the-art gaming lounge, a private park, club level gym and workout space, and their resort inspired pool with a tempered edge! This pool includes shaded lounge areas for days when the sun is just too much and a private poolside dining room, including catering. This is the perfect pool for relaxing days as well as summer nights when you want to entertain.
Atelier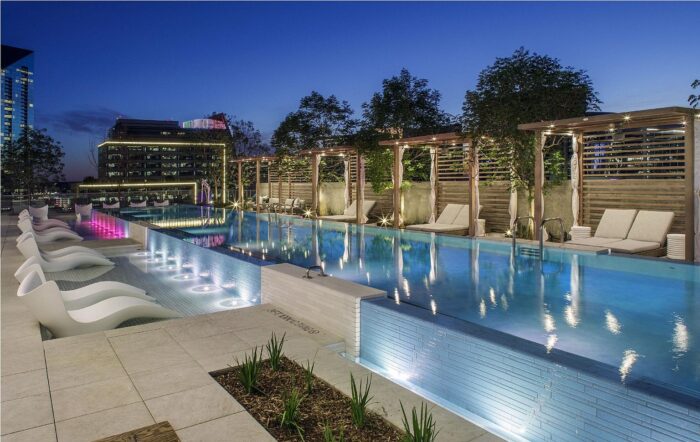 Atelier Apartments, Dallas, Texas
When moving to Dallas, you're bound to hear about the colorful Arts District. It's a short distance to Uptown Dallas and West Village Dallas, but the neighborhood itself is exciting enough for any apartment dweller with all the recently opened trendy Dallas restaurants. Atelier is a luxury collection mix of Dallas lofts and industrial luxury high-rise apartments with floor-to-ceiling windows. As a new resident, you'll have the 11th floor amenity level with an expansive deck featuring an infinity edge pool for ultimate relaxation, as well as poolside cabanas. There's even a pool butler and a towel service, yes please! But, it's not just you who will be pampered at Atelier, they even have a pet spa so your furry friends can enjoy luxury living, as well.
Eastline Residences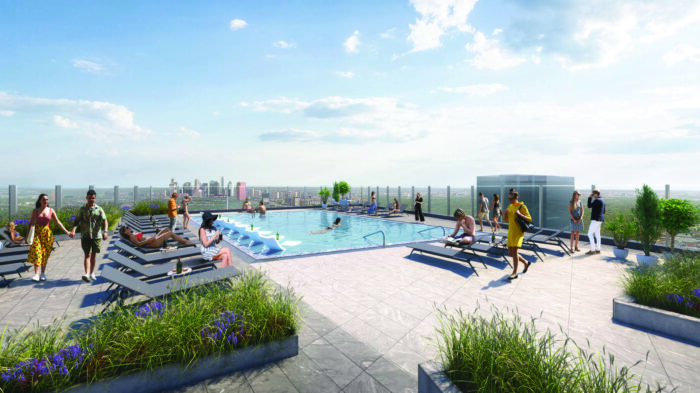 Eastline Residences, Dallas, Texas
Looking for quintessential Dallas penthouses and floor-to-ceiling windows surrounded by modern glass frames awash with natural lighting in the Eastline district of Dallas? Eastline Residences is the place to be, needing no introduction as the newest high-rise in the midtown area. Exclusive and condo style to every detail, the Eastline Residences apartments are thoughtfully designed and engineered, but the amenity vibes here are thrilling, can we say 28th floor expansive rooftop pool! Offering residents tanning ledges, a sky-lounge, and breathtaking 270 degree views, this rooftop is just as ideal for sky watching or stargazing as it is swimming. Poolside cabanas are awaiting for you to relax and enjoy, you deserve it!
The Gabriella
The Gabriella, Dallas, Texas
The Gabriella is a brand new addition in the nearby Deep Ellum neighborhood, close to Downtown and Uptown Dallas, but already it stands out — and their stunning elevated pool deck is part of the reason. From this infinity edge pool or the outdoor soft seating and lounges, you'll enjoy splendid city views of Dallas, all in a new community where you can truly make it your home living the good life!
AMLI Fountain Place
AMLI Fountain Place, Dallas, Texas
Still a relatively new player in the poolside game, the tallest Dallas high-rise apartment building of this selection, the stunning Amli Fountain Place proudly stands at 45-stories high, giving you the sensational skyline views you deserve! If you're looking for modern furnishings and finishes, and of course, exciting amenities, this one is a must for your new apartment search. In addition to a landscaped terrace, their fitness center, and open air yoga deck, you'll find a heated pool that you can enjoy year round, not just during the hot summertime. Private cabanas combine with outdoor dining areas and grills so you can make the most of a summer night on the pool deck at AMLI Fountain Place. And all of this within the beloved Dallas Arts District!
Are you moving to Dallas and looking for a luxury high​-​rise apartment ​you can enjoy poolside with a view​?
Live Dallas​​ Realty ​is your​ ultimate luxury apartment locators from Uptown to Downtown and all around town.
Our services are completely free for you and come with unmatched perks (um, free rent? yes please!).
Ready to dive in? Get in touch and we'll find you the perfect place to pick for your personal paradise!
Live Dallas Realty is always here to help you with tours, guidance, and suggestions for finding that perfect place for you to call home.
Follow the best luxury Dallas Apartment Locators @livedallasrealty for all the latest high-rises to see and be seen!
Relocating to Dallas and looking for the perfect new luxury apartment? Let's connect, click here for additional details, we're here to make your move a smooth process every step of the way.