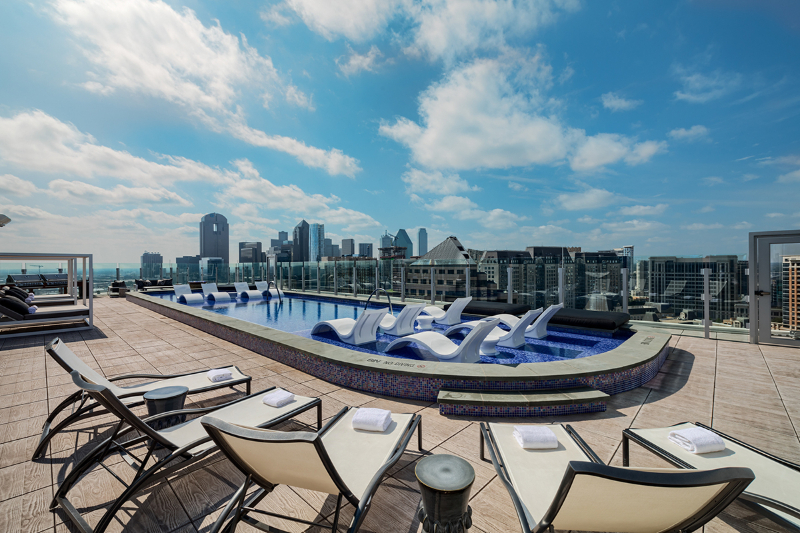 With the start of Memorial Day Weekend here, the countdown to the kickoff of summer is officially on! Here at Live Dallas Apartment Locators we know that means you're ready to find your go-to pool for those endless hot summer days, but with so many amazing scenes in the Dallas area, how do you know which to choose?
Don't stress, we've got you covered with our Top Ten Best Apartment Pools with a View in Dallas for summer 2018! Grab your bikini, sunscreen, and unicorn float, and check out our list below.
1: AMLI Design District
With so many stunning summer spots to enjoy, it's hard to pick our top pool in Dallas, but the AMLI Design District simply can't be beat. Aptly named for its location in the Design District, the spacious rooftop pool features an infinity edge, tons of seating, and expansive views. If that wasn't enough, they truly stepped it up a notch by offering an underwater sound system and one-acre of beautiful landscape. Enjoy the wi-fi, catch your favorite shows on the flat screen, or head to the grilling stations with resort style lounge seating. If cabanas are more your thing, take your pick from several, and relax comfortably. Rooftop pools may be a dime a dozen here in Dallas, but the AMLI Design District is a must see. Take in the views, take in the scene, and take in the feeling of knowing you get to play in paradise everyday as a resident of this luxury high rise building.
2: One Uptown
One Uptown, located in the trendy Uptown section on McKinney Avenue, really brings the heat when it comes to cooling down with not one, but two incredible pools. The 20th story Sky Deck lets you take in the Dallas skyline from an amazing vantage point, and offers all the amenities you deserve ranging from fire pits to in-water chaises. When you're ready to switch things up, head down to the restaurant deck to take a swim in the beautiful glass-bottom pool. This luxurious feature is exclusive to One Uptown residents, so they can hit up the full service bar and toast to the good life!
3: The Ascent
Located in a prime location smack dab in Victory Park, The Ascent offers a welcoming retreat with its sixth floor Victory Deck Park and Power outdoor space.
Private poolside cabanas are the perfect spot for a quick game of cards, chat with your girlfriends, or a snuggle with your sweetie. Feeling hungry? Mio Nonno Wood Fire Pizza & Grille is located downstairs on the first floor, with delivery available soon. The only thing shining brighter than the neon pool lights is the smile on your face from yet another day in paradise without ever leaving your spot.
4: SkyHouse
If you're looking for high-class features and high-altitude swimming, the 24th Floor SkyDeck was made for you. SkyHouse, located in prime Victory Park, does not play when it comes to amenities for their residents. Sweeping views of Downtown Dallas make the perfect backdrop for an afternoon dip, and as an added and exclusive bonus, this top-rated Dallas hot spot offers a saltwater, heated pool for you to enjoy any time of year. The rooftop SkyDeck provides you with plentiful seating, an outdoor kitchen and grilling area, along with a TV. After all, The Bachelorette isn't going to watch itself this summer. If the SkyHouse pool area offered us a rose, we'd definitely accept.
5: 3700M
At 3700M, things are about to heat up for you, and we're not just talking about the never-ending summer sun here in Dallas. Located in the center of West Village, this super social scene brings the heat with an exclusive hot tub. It's a see-and-be-seen spot where you can people watch, or take in the mesmerizing views of Dallas surrounding the infinity edge pool. Whoever said you can't have it all clearly has never been to 3700M.
6: The 23
The new kid on the block in Victory Park is definitely The 23. Take in the views of the city just beyond the edge of the glass-front, luxury infinity pool. You'll feel like you're at a high-end hotel, without the crazy price tag, when you're actually just high above the city streets and right at home sweet home. As a newbie, The 23 is eager to show off their countless luxury amenities. Residents can enjoy the views overlooking Downtown Dallas and the amazing opportunity of feeling like you're on vacation every day of the year. Don't sleep on this spot before it becomes too popular to access.
7: M-Line Tower
An outdoor oasis awaits you at M-Line Tower, located in the heart of Uptown, with an inviting and spacious pool well equipped with more than enough seating for you and your guests. The exclusive sky lounge is 20 floors high, offering you jaw- dropping views of the Dallas skyline and the perfect spot to take in the sun, the scene, and sip on a cocktail! While still a bit of a new player in the game, the level of luxury is off the charts at M-Line Tower, letting you feel like a vacationing tourist in your own apartment building, in the very best way.
8: Cirque
Cirque, the luxury high-rise in Victory Park where it all began! Panoramic views of Downtown Dallas and Victory Park await just for you, along with a rooftop infinity edge pool that's also heated so you can happily float all year long. Private poolside cabanas are available when you're ready to duck out of the sun, and slightly submerged chaise chairs let you splash your feet and keep you cool enough to beat the Texas heat. Cirque is known for it's resort-style pool and breathtaking views and you can rest assured it lives up to the hype. You'll feel so blissful you'll begin to wonder how you ever lived without this grandeur.
9: Park District
Residences at Park District, not just another new luxury high-rise! On its own level of luxury, Park District will make you feel like you're living in the heart of New York City, when you're actually in the heart of Uptown right here in Dallas. While it may be new, Park District is already making a name for itself as it's officially the tallest apartment building in Uptown, topping out at a whopping 34 stories high. All the better to see Dallas, dearie. With sensational views of the skyline, Park District truly brings their A-game. However, best of all is the resort style infinity pool and amenity deck, which gives you that glorious staycation feeling. Not only raising the height, but raising the bar for luxury high-rises in the area, you can forget NYC, because the Park District scene is where it's at.
10: The Case Building
Speaking of new, The Case Building in trendy, up and coming Deep Ellum, is another new player in the Dallas high rise game, having only opened last year. The lavish pool deck is generous in size, seating, and style, ensuring you don't have to sacrifice a single thing to host your scene this summer. Beat the heat by floating in the pool or sunbathing in one of the many semi-submerged loungers. Play all day and right into night when multi-color neon lighting sets the scene for close conversation or dining al fresco. When you're ready for something sweet, head into the resident lobby cocktail bar or take a minute to watch the sunset over the beautiful views of Downtown Dallas. The Case Building lets you eat, drink, sip, and lounge in luxury and the best part is knowing you get to do it all over again tomorrow.
Now that you've read our picks for the best apartment pools with a view in Dallas, we'd love to hear your thoughts. Did we miss any must-see spots for soaking in the sun and taking in the scene? Did we feature your favorite luxury building? Leave us a comment below or over on Facebook.
If our list of the top 2018 luxury pools in Dallas has you ready to level up your living situation, give us a call anytime. Our services are free and right now, you can contact us to get the hook up on up to eight weeks of free rent this summer. Free services and free rent? You better believe it. As the best luxury Dallas apartment locators, we do not mess around and love to make your life easier and your apartment dreams a reality. Live DALLAS is much more than just an apartment locator service, it's a lifestyle and we can't wait to help you find your style and scene.
Cheers to Summer 2018, we'll see you at the pool!