Have you been living in a tiny apartment and wondering how to decorate it and what to do with the small space? Maybe you've been thinking about downgrading to a cheaper apartment. A small apartment may feel cramped when you first move in, but with a little décor, you'll have your living space livable and inviting in no time. If you're renting an apartment, you may have limited ability to remodel the walls, floor, and fixtures, but never fear! You can dress up a small apartment without spending a fortune. Let's look at some ways to do that.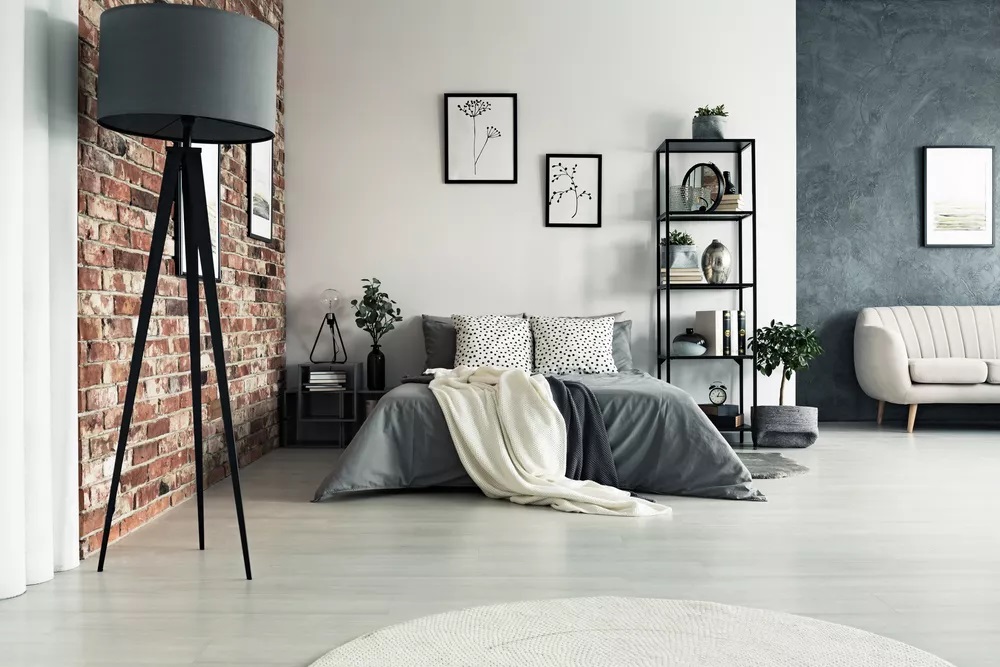 Buy Simple Furniture from Secondhand Stores
Keep the furniture simple. If you have a small living space, too much furniture will make it appear cramped and even smaller than it is. You can make the furniture stand out more with patterned pillows in bright colors or abstract designs. Keep the furniture simple, but get a little funky with the accessories. Another option is to use a small sectional to create a cozy seating area that you can add extra pillows to. This creates an inviting and elegant space when entertaining guests.
Add Cohesiveness Between Rooms with Rugs
Place clustered rugs in the living room and bedroom to make it feel more cohesive. Use the same pattern in the living room or bedroom for continuity in your small space. Having visual connection between rooms will make your apartment seem larger. Large rugs are a better choice than smaller ones if you're trying to create the appearance of more space.
Skip the Coffee Tables
Coffee tables take up significant space, especially if you have one on each side of the couch. Skip the tables and place thin floor lamps on each side of the couch instead. The extra light will brighten the room and visually add to its size. These can also easily fit into corners or different shaped spaces, and come in various styles to fit your style, including tropical, modern or traditional.
Bring a Touch of Nature Indoors
Plants are less expensive than furniture and add visual interest. Plus, some plants help clean the air and create a healthier living environment. Choose plants that are easy to care for, so they can look terrific year after year. They'll add beauty and health benefits to your living quarters.
Add the Illusion of Visual Space with Mirrors
Other than light, nothing makes a small apartment look more spacious than mirrors. The larger the mirror, the more space and dimension it will give your new living quarters. In small areas, you may even want to place a mirror on the ceiling, for an even more dramatic effect.
Give Your Bathroom a Spa-Like Feel
Hang lounge-style pendant lamps in the bathroom instead of regular overhead lights. This will make it feel a bit more like a spa and adds an element of relaxation whenever you step into your bathroom. Splurge on one thing that makes your bathroom feel more like a spa. How about a towel warmer? You won't regret it.
Lighten Up on Everything
A small apartment can get crowded quickly if you try to cram in too many pieces of furniture and accessories. Also, you'll create the illusion of more space if you keep the base color white or neutral and add bolder accessories for added pop. The dark wines and deep blues you see in some older homes will only make your quarters appear cramped.
Keep the Kitchen Bright
If you have a small apartment, the kitchen is the spot for socializing with family and entertaining guests. Invest in colorful dishes and colorful pots to add some brightness. Try to maintain subtle patterns for continuity in your small space. If you have a small kitchen, consider using an island in the center of the space as your main eating area. This will help you utilize the whole room and eliminate wasted space.
Have a Signature Piece
Use one bold piece to fill up an empty space in the living room, like a large round coffee table or a Moroccan pouf. This will draw the eyes into the room and make it look more attractive. You may find an unusual signature piece at an estate sale, secondhand store, or starving artist sale for a song. Keep looking until you find a piece that speaks to you.
The Bottom Line
Whether it is apartments, condos, townhouses or lofts, people with a small living space are always looking for ways to decorate on a budget. Now you know some ways to do that. Living in a small apartment can be cozy and inviting. Enjoy!
The Best Luxury Dallas Apartment Locators
Live Dallas Apartment Locators can assist you in your search for the ideal studio apartment or a contemporary loft apartment. Our licensed real estate agents can streamline your apartment search by providing a curated list of exclusive buildings based on your needs and budget, scheduling showings, and reviewing lease documents. Relocating from outside the area? No problem – Our Dallas relocation specialists have local knowledge and will guide you through the entire process. Connect with one of our local real estate agents and schedule a tour of the most luxurious apartments in Dallas by clicking here.