While the official start of summer isn't until June 21st,
we here in Dallas have been enjoying our favorite season for some time now. For the second year in a row, we've rounded up the absolute best Dallas pools to see and be seen at. Get in the scene with our 2019 Top 10 Dallas Apartment Pools.
Our list will have you living the sweet life but do keep in mind it's in no particular order, so whichever spot you pick is bound to be the best.
1. One Uptown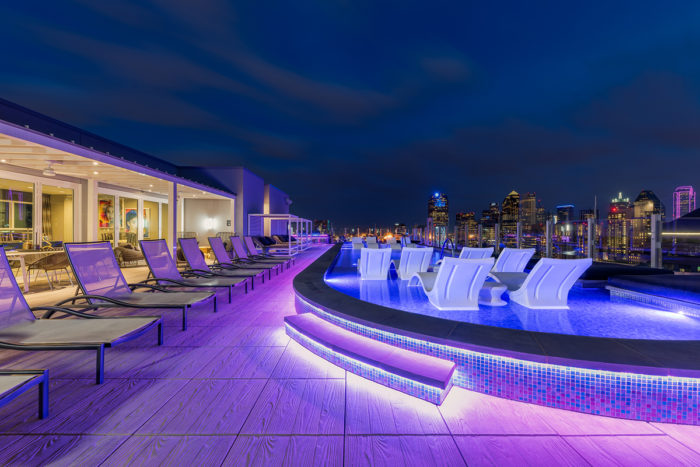 One Uptown, located in the trendy Uptown section on McKinney Avenue, really brings the heat when it comes to cooling down. Take the elevator up to the 20th story Sky Deck to marvel at the breathtaking Dallas skyline views before settling into one of the in-pool loungers and soaking in the scene. Since the views are endlessly mesmerizing, you can stay all day and right into the night when One Uptown's luxurious fire pits really heat things up.
2. Park District
Still a relatively new player in the poolside game, Park District proudly stands at 34 stories high, giving you the sensational skyline views you came for plus the unexpected bonus scenery by overlooking Klyde Warren Park. Not to be outdone, Park District goes above and beyond by introducing you to their Urban Sky Terrace featuring several outdoor spaces gathered together as one. Their resort style infinity pool is not to be missed and additional amenities such as private cabanas, fire pits, and plenty of green space, take a good thing and make it great. Impress your crew by knowing one of the newest must-be scenes in incredible Uptown.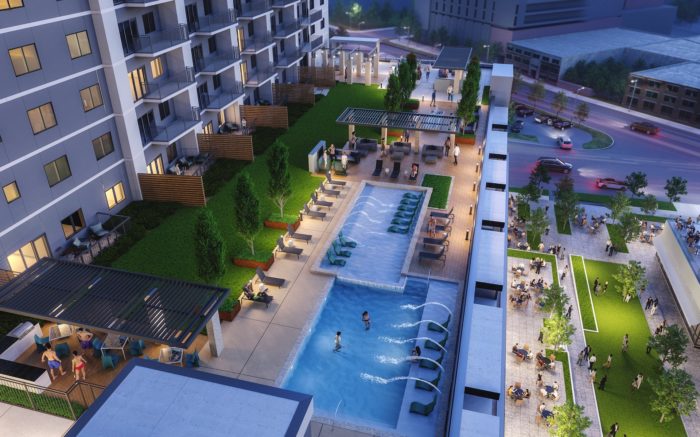 You know that feeling when you meet someone new and know they're something special right away? Meet The Christopher. Located at The Union, a brand new urban center, this perfectly placed paradise lands you at the intersection of Uptown, Downtown, and Victory Park. Enjoy a resort style pool and so much green lawn space, you'll feel like you've got your own backyard. You can expect plenty of luscious seating, fire pits made for snuggling, water features, and the quintessential cabana. Tell all the boys you're busy this summer hanging out with The Christopher.
4. Ascent Victory Park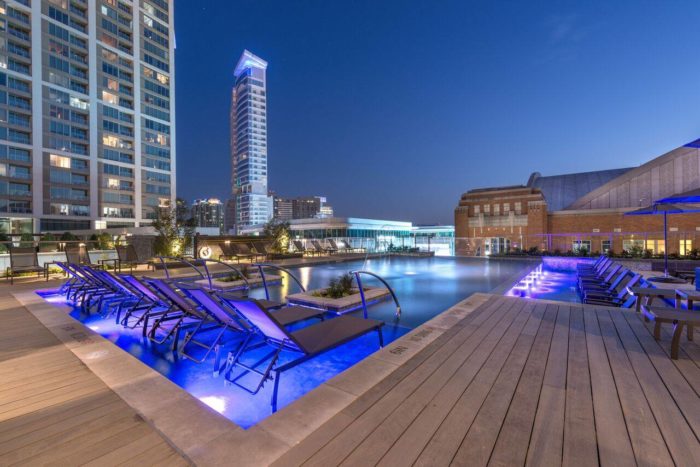 The Ascent is a truly lit high-rise – lit with neon pool lights, that is. The Ascent, situated in a prime placement in Victory Park, is all about that one-stop shop life. You can spend an entire day relaxing at the lavish 6th floor Victory Deck Park and Power outdoor space enjoying the sights, sounds, scenes, and snacks. Pizza and Chill? Don't mind if we do, considering Mio Nonno Wood Fire Pizza & Grille is on the first floor of The Ascent, or you can make your own in the poolside pizza ovens. Claim a cabana, grab your girls, and dish out the best gossip and best pizza around.
Cirque is the original luxury high-rise in Victory Park and offers you panoramic views of Downtown, a heated rooftop infinity edge pool (hello year round pool parties), and private poolside cabanas. After a massive two-year renovation to the pool deck and entire building, which was just recently completed, Cirque is officially hotter than ever and is truly a must-see spot. Get cozy and revel in the high-rise, high-class lifestyle as you dine and dip all day. Located right by the American Airlines Center, you can trust the crowd here is worthy of your best people watching skills as you lounge, sip, chat, or play the day away. As the innovator of local poolside luxury, you can trust Cirque is consistent, confident, and can't be missed.
6. 3700M
3700M is not playing when it comes to crushing the summertime game. Located right in the center of West Village, an exclusive hot tub is offered to guests and residents alike so you can really, ahem, heat things up. When it's time to cool down, take a soothing dip in the infinity edge pool. If your heart starts to race, it's not the quick change of temperature but simply the endless views on display just for you. Between the views, the scene, and the amenities, 3700M is hot, hot, and getting hotter. Make sure to pack your sunscreen, babe.
7. SkyHouse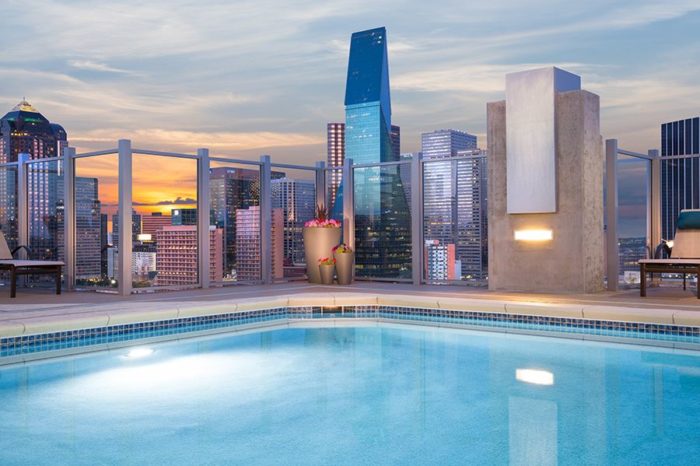 Twenty-four incredible floors high, smack dab in the heart of Victory Park, the SkyDeck at SkyHouse is waiting for you. With so many must-have perks, such as an outdoor kitchen, seating made to sink into, and grandiose 360-degree Dallas views you deserve, you may feel like your head is in the clouds. Don't worry, you're not dreaming, but just to make sure, pop your feet into that exclusive saltwater, heated pool you see glistening before you. As it turns out, there is something even sweeter than daydreaming and that's spending the day at SkyHouse.
8. Carlisle & Vine
It's all about the scene at the latest and greatest summertime spot in Uptown Dallas, Carlisle & Vine. A recent addition to the high-rise hotspots, a spacious outdoor area is designed for your relaxation and pleasure. Walk out onto the 6th floor deck where you'll see an unbelievable resort style pool equipped with chaise loungers, a modern fire pit, wet deck, and grilling spots. Head down to the first level where you can get your workout in by playing a friendly game of bocce ball before catching an afternoon nap back up on the outdoor deck. Embrace those vacay vibes, girl, as Carlisle & Vine is the perfect new place for your staycation destination.
9. The Case
Let us state our case as to why The Case is an absolute must for summer 2019. Only two years old, The Case offers a trendy pool deck large enough to host your entire squad. If the plentiful tables and chairs don't do it for you, sink into the semi-submerged lounge chairs guaranteed to keep you just cool enough for those hot Dallas days. Catch the sunset before cruising into the lobby cocktail bar because if there's anything better than a long pool day, it's bringing it right into the night. Multi-color neon lights will light your path if you're ready to head back outside for some air. Is this one of the top Dallas poolside scenes? You better believe it. Case closed.
10. AMLI Design District
The ultimate luxury building pool in the Design District is none other than the AMLI. You'll feel like you're at an exclusive resort while enjoying their infinity-edge pool, sweeping views, flat-screen televisions, and hotel style seating. That would be enough but the AMLI doesn't stop there, taking things up a notch with underwater sound systems, an entire acre of outdoor space, designated grilling areas, cozy cabanas, an outdoor movie screen, and wi-fi so you can get tons of "work" done – don't worry, we won't tell your boss that it's an all-play, no work day. Snap those selfies, sister, and share that poolside scene.
Now that you know the best apartment pools in Dallas, you may find yourself dreaming of moving in! If you're excited to find your new home, we here at Live Dallas are the ultimate luxury apartment locators from Uptown to Downtown and all around town. Our services are completely free for you and come with unmatched perks (um, free rent? yes please!). Ready to dive in? Get in touch and we'll find you the perfect place to pick for your personal paradise. Until then, you bring the floats, we'll bring the snacks, and we'll see you at the pool!