East Quarter provides luxury urban living at the intersection of history and modernity. Combining distinct historic buildings with innovative urban planning, East Quarter immerses each resident in a unique atmosphere of historic Dallas against a backdrop of modern convenience. Click here to learn more about East Quarter, luxury Dallas apartments.
Location

Location is key to the East Quarter experience. Situated at the heart of Dallas' urban revival, East Quarter mixes a diverse cross-section of luxury residential apartments and retail options, blending "culture, commerce, and convenience" into one chic location. Smart planning and pedestrian-friendly access make it quick and easy for residents to visit the nearby foodie haven of Dallas Farmers Market or enjoy a craft cocktail at one of the bars in neighboring Deep Ellum.
Neighborhood Vibe
Each building in the East Quarter honors the rich entrepreneurial heritage of the neighborhood. From carefully restored turn-of-the-century brick to iconic Art Moderne architecture, East Quarter is inspired by Dallas' industrial past and driven by its future.
Since the 1920s, East Quarter has been home to some of Dallas's most innovative companies. Originally nicknamed "auto-row," due to its thriving automobile industry, East Quarter has evolved far beyond the clutches of a single industry. Today, the East Quarter is a flourishing residential and shopping district from everything else Dallas has to offer.
East Quarter Residence Apartments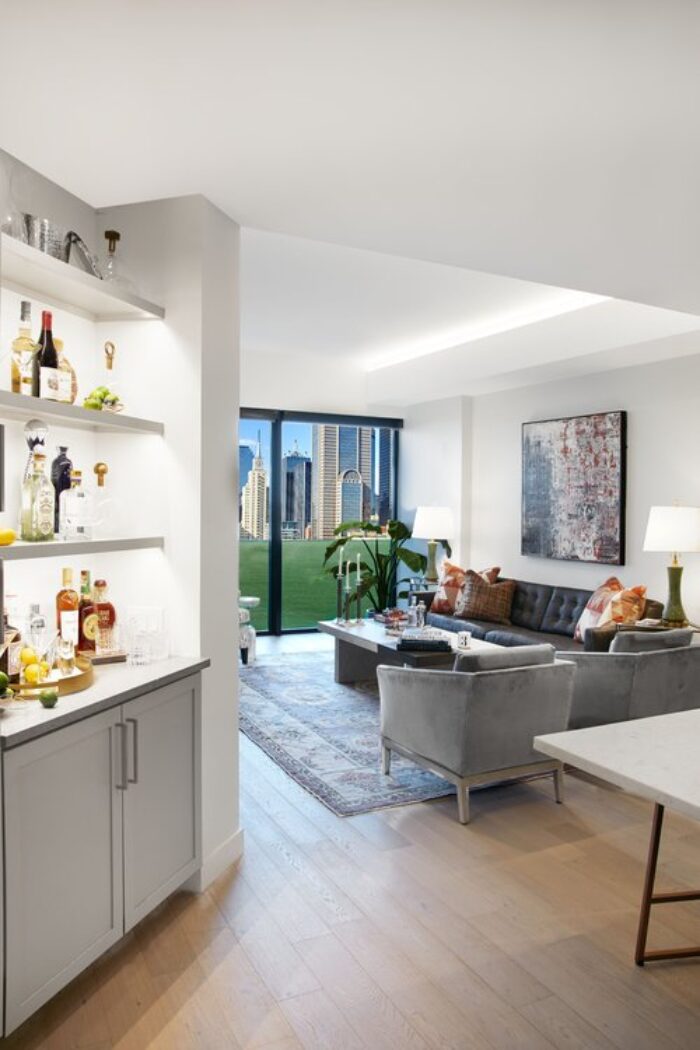 Located above the Meletio Buildings, once home to the Meletio Electrical Supply Company, East Quarter Residences is a luxury rental community and downtown Dallas' newest high-rise building. The lower levels of the building feature retail and office space, while the tower houses 335 luxury apartments and boasts a sprawling eighth-floor amenity deck — perfect for professionals looking for an upscale living experience.
Apartments start from 550 square feet, with around 20 unique unit types available. Many of the apartments have expansive outdoor terraces that boast unobstructed views of Downtown Dallas.
Amenities
East Quarter Residences is a game-changer. With unparalleled style and luxury amenities, you get more than just a place to live; you become part of the neighborhood. East Quarter residents enjoy some of Dallas's most spectacular architectural and interior design, as well as exclusive access and preferred reservations to restaurant concepts by some of the nation's top restaurateurs.
A stunning rooftop pool with breathtaking skyline views of the downtown Dallas skyline creates an urban oasis for residents, while a private resident bar and ultra-chic lounge areas provide the ultimate social experience for luxury living.
Other East Quarter Residences amenities include;
Luxury fitness center
Rooftop pool deck with skyline views
Poolside food and beverage service
Private resident bar
Signature East Quarter Coffee Roast exclusive to East Quarter Residences
Private Resident Bocce Ball court
Conference Rooms and resident meeting spaces
Unobstructed downtown views
Pet-friendly
Reserved parking
Discover luxury urban living in the heart of Dallas. Click here to schedule your private tour of the East Quarter Residence apartments today.
Live Dallas Realty offers a free location service to help you find your perfect Dallas apartment. Our resident real estate experts combine years of experience and knowledge of the Dallas market to streamline your apartment search. Whether you're looking for a luxury high-rise apartment in Uptown Dallas, or a historic loft apartment in Downtown Dallas, we've got you covered.